DEADHOUSE PARTY
with KASSEM MOSSE, TRIBE OF COLIN (NTS), ZENO COSINI (PLACE NO BLAME / NTS) & NABIHAH IQBAL
To mark 6 months of the Glory To Sound series, Nabihah Iqbal curated a club night which took place in The Deadhouse, a subterranean space beneath the Somerset House courtyard housing a number of seventeenth century gravestones from a former chapel located on the site. The night was about exploring the collective / individual experience of music on the dance floor and how we let the music get into our bodies. Bringing together artists pushing things forward in experimental dance music, the event included sets from Tribe of Colin (NTS), Zeno Cosini (Place No Blame / NTS), Nabihah Iqbal and special guest headliner Kassem Mosse.
Kassem Mosse
Claiming to live "in a nighttime world somewhere on the edge of time," Gunnar Wendel aka
Kassem Mosse
is no stranger to the nether regions of ambient techno. Through a series of celebrated singles on Mikrodisko and Workshop, Mosse has carved out a unique time-warped sound that many have tagged as too slow for traditional techno but too sparse for house. Hailing from Leipzig, Germany since 2006 his solo work has drawn comparisons to everyone from Theo Parrish to Basic Channel, but Mosse explores the ambient portion of the musical spectrum with Chilling to Do, an improvised project with fellow Mikrodisko artist Mix Mup.
Zeno Cosini


With an aversion to a pre-packaged culture of
unquestioning consumerism, Zeno Cosini is constantly searching for mystery. In the words of the late Mark Fisher "Tradition counts for nothing when it is no longer contested and modified. A culture that is merely preserved is no culture at all."
Having worked at Honest Jon's Records, mingling with its diverse characters, he was exposed to a near 360 degree view of music, its relationship to different people, tastes, cultures, attitudes and egos. Smelling Shaka's spliffs down the stairwell, hearing the endless tales from the mouth of the late, great Tony Al Capone (store legend, Portobello legend, and tireless motivator) only helped to fuel his fire.
Tribe of Colin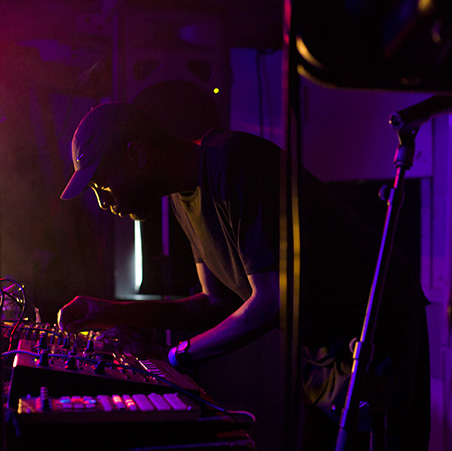 Tribe of Colin with supporters like John T. Gast and Josey Rebelle, but there's little information about him available to Internet sleuths. His first release, Fruits Of Zion, was made up of deteriorated but strangely evocative pieces that left you scratching your head trying to explain their elusive significance. To some it might sound like lo-fi techno, but Tribe of Colin's grotty electronics are a means to an end—a channel through which something personal flows. He has records out with the following labels: Tniegebrohood, 5 Gate Temple and Trilogy Tapes.
Nabihah Iqbal

Many musicians like to speak of versatility, but Nabihah Iqbal has better grounds than most. She boasts an MPhil (focused on African history) from Cambridge, has worked in human rights law and has a black belt in Karate. Formerly known as Throwing Shade, she has ditched that moniker to embrace the name she was born with. She released her debut album 'Weighing of the Heart' in December 2017 and has since garnered huge critical acclaim from the likes of The Guardian, Pitchfork, Dazed, The Observer, Q Magazine, BBC Radio 1 and 6 Music.

Aside from working on her own music, Nabihah has hosted a bi-weekly show on NTS Radio for the past 5 years, exploring the musical traditions of different countries. She is also currently presenting a residency radio show on BBC Asian Network.